5 min read
This post is also available in 简体中文, 日本語, Français, Deutsch, and Español.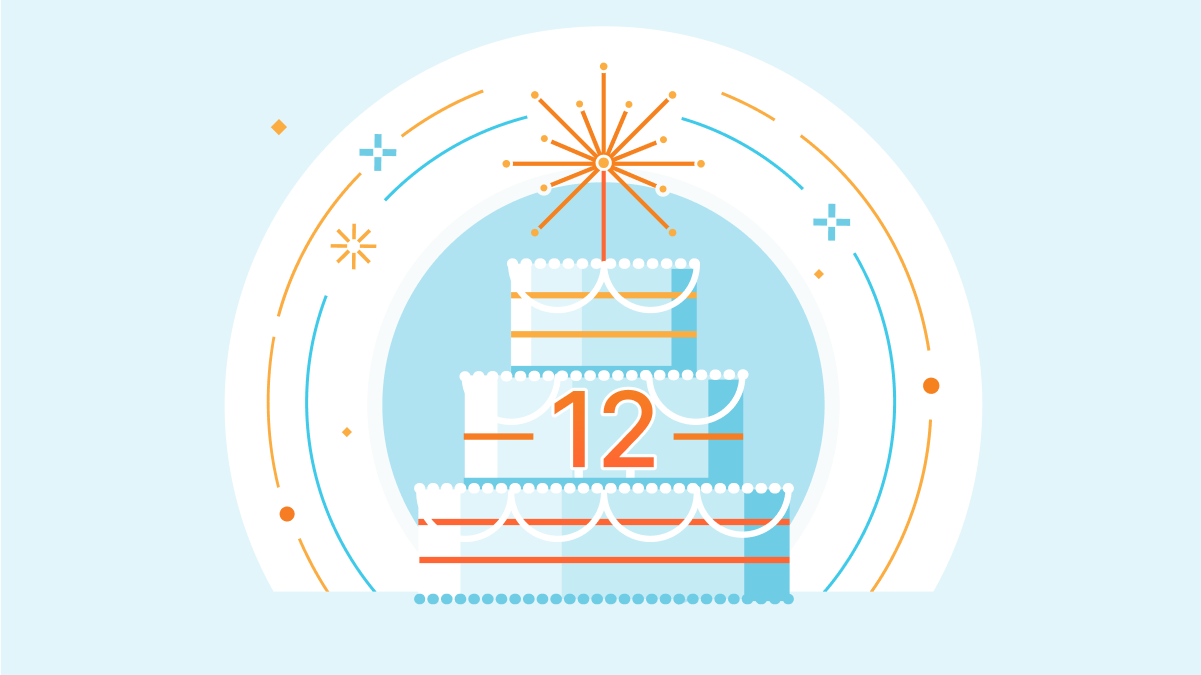 Almost a teen. With Cloudflare's 12th birthday last Tuesday, we're officially into our thirteenth year. And what a birthday we had!
36 announcements ranging from SIM cards to post quantum encryption via hardware keys and so much more. Here's a review of everything we announced this week.
Monday
| What | In a sentence… |
| --- | --- |
| The First Zero Trust SIM | We're bringing Zero Trust security controls to the humble SIM card, rethinking how mobile device security is done, with the Cloudflare SIM: the world's first Zero Trust SIM. |
| Securing the Internet of Things | We've been defending customers from Internet of Things botnets for years now, and it's time to turn the tides: we're bringing the same security behind our Zero Trust platform to IoT. |
| Bringing Zero Trust to mobile network operators | Helping bring the power of Cloudflare's Zero Trust platform to mobile operators and their subscribers. |
Tuesday
| What | In a sentence… |
| --- | --- |
| Workers Launchpad | Leading venture capital firms to provide up to $1.25 BILLION to back startups built on Cloudflare Workers. |
| Startup Plan v2.0 | Increasing the scope, eligibility and products we include under our Startup Plan, enabling more developers and startups to build the next big thing on top of Cloudflare. |
| workerd: the Open Source Workers runtime | workerd, the JavaScript/Wasm runtime based on the same code that powers Cloudflare Workers. workerd is open source under the Apache License version 2.0. |
| Cloudflare Calls | A new product that lets developers build real-time audio/video apps. Cloudflare Calls exposes a set of APIs to build video conferencing, screen sharing, and group calling apps on our network. |
| Cloudflare Queues | Queues is a global message queuing service that allows applications to reliably send and receive messages using Cloudflare Workers. It offers at-least once message delivery, supports batching of messages, and charges no bandwidth egress fees. |
| What's new with D1 | Improving the developer experience of D1 with CLI support for backups, snapshots and local development. |
| WebRTC live streaming | Cloudflare Stream now supports live video streaming over WebRTC, with sub-second latency, to unlimited concurrent viewers. |
| The future of Page Rules | Our plan to replace Page Rules with four dedicated products, offering increased rules quota, more functionality, and better granularity. |
| Cache Rules | Evolving rules-based caching on Cloudflare with more configurable Cache Rules. |
| Configuration Rules | Configuration Rules enable new use-cases that previously were impossible without writing custom code in a Cloudflare Worker, including A/B testing configuration, enabling features for a set of file extensions and much more. |
| Origin Rules | A new product which allows for overriding the host header, the Server Name Indication (SNI), destination port and DNS resolution of matching HTTP requests. |
| Dynamic URL redirects | Users can redirect visitors to another webpage or website based upon hundreds of options such as the visitor's country of origin or language, without having to write a single line of code. |
| Cloudflare named a Leader in WAF by Forrester | Forrester has recognised Cloudflare as a Leader in The Forrester Wave™: Web Application Firewalls, Q3 2022 report. |
Wednesday
| What | In a sentence… |
| --- | --- |
| Turnstile, a user-friendly, privacy-preserving alternative to CAPTCHA | Turnstile is an invisible alternative to CAPTCHA. Anyone, anywhere on the Internet, who wants to replace CAPTCHA on their site will be able to call a simple API, without having to be a Cloudflare customer or sending traffic through the Cloudflare global network. |
| Magic Network Monitoring for everyone | Magic Network Monitoring will be available to everyone, and now features a powerful analytics dashboard, self-serve configuration, and a step-by-step onboarding wizard. |
| Botnet Threat Feed for service providers | The Botnet Threat Feed will give ISPs threat intelligence on their own IP addresses that have participated in HTTP DDoS attacks as observed from the Cloudflare network — allowing them to reduce their abuse-driven costs, and ultimately reduce the amount and force of DDoS attacks across the Internet. |
| Build privacy-preserving products with Privacy Edge | Privacy Edge, including Code Auditability, Privacy Gateway, Privacy Proxy, and Cooperative Analytics, is a suite of products that make it easy for site owners and developers to build privacy into their products, by default. |
| Quick search in the dashboard | Our first release of quick search for the Cloudflare dashboard, a beta version of our first ever cross-dashboard search tool to help you navigate our products and features. |
Thursday
| What | In a sentence… |
| --- | --- |
| Making phishing defense seamless with Cloudflare Zero Trust and Yubico | An exclusive program for Cloudflare customers that makes hardware keys more accessible and economical than ever. This program is made possible through a new collaboration with Yubico, the industry's leading hardware security key vendor and provides Cloudflare customers with exclusive "Good for the Internet" pricing. |
| How Cloudflare implemented hardware keys to prevent phishing | How Cloudflare uses hardware keys, built on FIDO2 and Webauthn, to become phish proof and more easily enforce least privilege access control. |
| Role Based Access Controls for every Cloudflare plan | Role based access controls, and all of our additional roles, will be rolled out to users on every plan. |
| Email Link Isolation | Bringing Browser Isolation to potentially unsafe links in email with Zero Trust and Area 1. |
| Unmetered Rate Limiting | Today, we are announcing that Free, Pro and Business plans include Rate Limiting rules without extra charges, including an updated version that is built on the powerful ruleset engine and allows building rules like in Custom Rules. |
Friday
| What | In a sentence… |
| --- | --- |
| Gateway + CASB | When CASB, Cloudflare's API-driven SaaS security scanning tool, discovers a problem, it's now possible to easily create a corresponding Gateway policy in as few as three clicks. |
| Project A11Y | How we upgraded Cloudflare's dashboard to adhere to industry accessibility standards. |
| Bringing (free) Stream to Pro and Business plans | Beginning December 1, 2022, if you have a Business or Pro subscription, you will receive a complimentary allocation of Cloudflare Stream, including up to 100 minutes of video content and deliver up to 10,000 minutes of video content each month at no additional cost. |
| Workers Analytics Engine public beta | Workers Analytics Engine is a new way for developers to store and analyze time series analytics about anything using Cloudflare Workers, and it's now in open beta! |
| Radar 2.0 | On the second anniversary of Cloudflare Radar, we are launching Cloudflare Radar 2.0 in beta. It makes it easier to find insights and explore data, see more insights, and share them with others. |
| Cloudflare Radar Outage Center | The new Cloudflare Radar Outage Center (CROC), launched today as part of Radar 2.0, is intended to be an archive of Internet outages around the world. |
| Radar Domain Rankings | Radar Domain Rankings is a new dataset for exploring the most popular domains on the Internet. The dataset aims to identify the top most popular domains based on how people use the Internet globally, without tracking individuals' Internet use. |
One More Thing
We had so much over the week that we had to add just one more day, with a big focus on cryptography: not only how clients connect to our network, but also how Cloudflare connects to customer origins.
| What | In a sentence… |
| --- | --- |
| Bringing post quantum cryptography to Cloudflare customers | As a beta service, all websites and APIs served through Cloudflare support post-quantum hybrid key agreement. This is on by default; no need for an opt-in. This means that if your browser/app supports it, the connection to our network is also secure against any future quantum computer. |
| Cloudflare Tunnel goes post quantum | Cloudflare Tunnel gets a new option to use post-quantum connections. |
| Securing Origin Connectivity | Cloudflare will automatically find the most secure connection possible to origin servers and use it automatically. |
Next
And that's it for Birthday Week 2022. But it's not over for Cloudflare Innovation Weeks this year; stay tuned for a week of developer goodies coming soon.