7 min read
TL;DR - Net neutrality is under attack. There's an app on Cloudflare Apps that empowers site owners to host a popup on their sites, encouraging users to contact their congresspeople to fight back. Everyone should be doing this right now, before the December 14th FCC vote.
Use Battle for the Net to Call your Congressperson »
Attend Cloudflare's Save the Internet! Net Neutrality Call-A-Thon »
The Federal Communications Commission (FCC) has scheduled a vote to terminate its net neutrality rules this Thursday, December 14th. Unfortunately, the expectation is that the FCC will vote to repeal its net neutrality rules. Read about this on Business Insider, Bloomberg, or TechCrunch.
Net neutrality is the principle that networks should not discriminate against content that passes through them. The FCC's net neutrality rules protect the Internet, users, and companies from abusive behavior by the largest Internet Service Providers (ISPs). Without net neutrality rules in place, ISPs may be able to legally create a "pay to play" system and charge websites to provide content to their customers more quickly. This will create a disadvantage for startups, bloggers, and everyone else who cannot afford to pay fees for their websites to offer faster service.
Cloudflare founders and employees strongly believe in the principle of network neutrality. Cloudflare co-founder and COO Michelle Zatlyn, sat on the FCC's Open Internet Advisory Committee, which guided the FCC to vote to preserve net neutrality in 2015. Cloudflare co-founder and CEO Matthew Prince and other employees have written four blog posts 1, 2, 3, 4, describing Cloudflare's views on net neutrality.
I am extremely disappointed that net neutrality is under threat. I am extremely grateful that I work at a company made of people who are fighting for it and I'm hopeful our community (you) can make a difference.
Read, watch, listen, and learn much more about net neutrality and its importance below.
For now, here is my favorite video explanation of net neutrality, by John Oliver, host of Last Week Tonight on HBO.
---------------- ### Battle for the Net
Because net neutrality is under attack, the Battle for the Net app is once again live on Cloudflare Apps. The app can be used to "Break the Internet" for the two days before the FCC's vote, as part of an internet-wide protest.
This app allows site owners to add a pop-up to their sites that will directly connect users to their respective US congresspeople so they may articulate their stance for net neutrality.
On a site that uses the Battle for the Net app, users are greeted with a pop-up which briefly explains that net neutrality is under attack, displays a countdown to the day and time (Thursday, December 14th) the FCC will vote to terminate the net neutrality rules, and provides an entry field for the user to enter their phone number.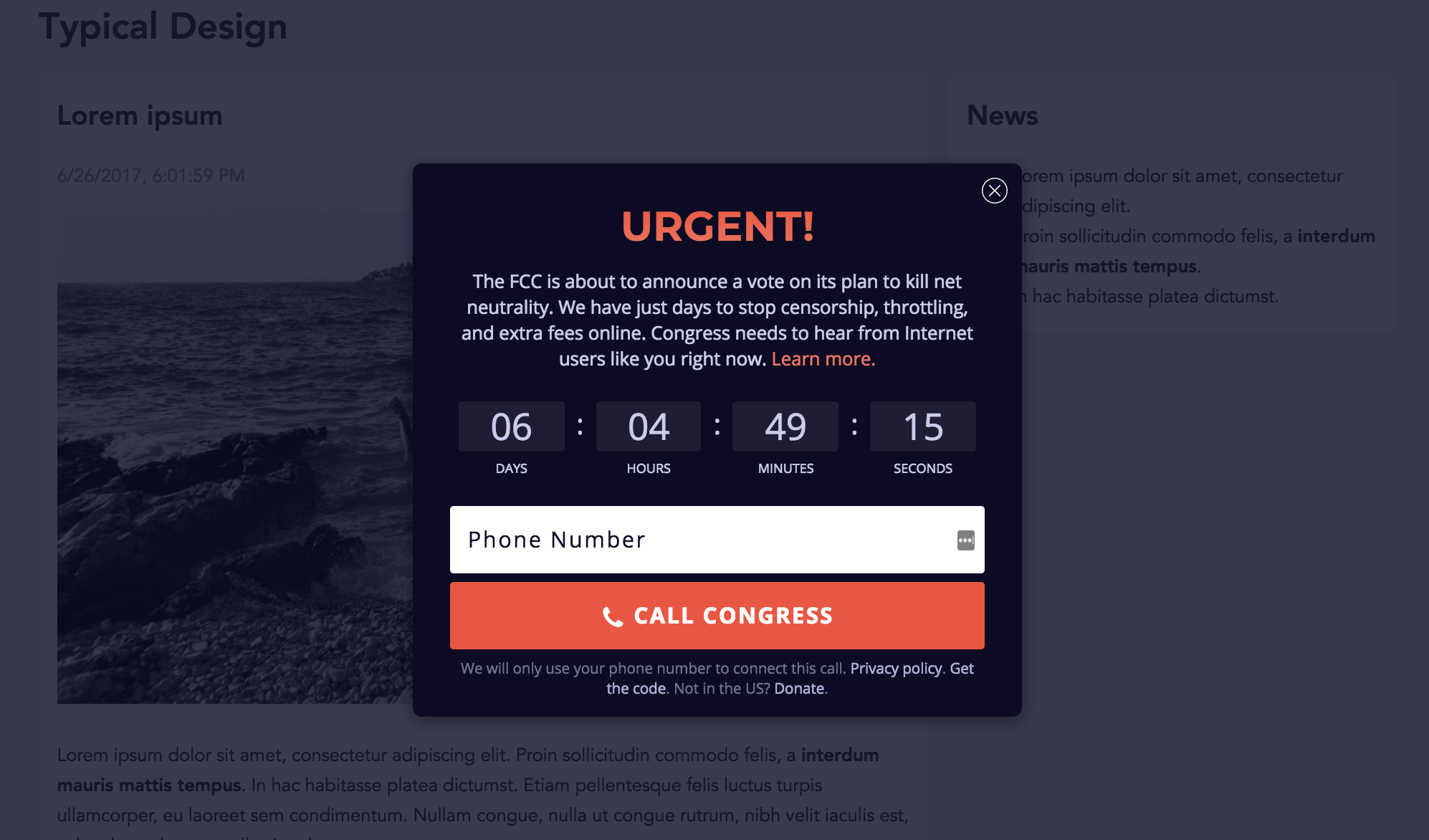 When a user enters their phone number and clicks the "CALL CONGRESS" button, they'll immediately receive an automated phone call from Battle for the Net. The recording instructs the user to enter their zip code, so they'll be connected to their specific congressperson.
Users may select the option to become a daily caller by pressing 1. This will initiate a process where users will receive calls at the same time each day, connecting them to their congresspeople.
To make one-time calls, users can just stay on the line. The recording delivers a recommended script to inform the congressperson on the line that the user supports net neutrality and wants the congressperson to contact FCC Chairman Pai and oppose the repeal.
Here's the written script:
Be polite, introduce yourself, and say: "I support the existing Title II net neutrality rules and I would like you to publicly oppose the FCC's plan to repeal them."
When done with the first call, users may press * to be directed to another call to their next congressperson.
I live in San Francisco, so my first call was directed to Representative Nancy Pelosi. My second call was directed to Senator Dianne Feinstein.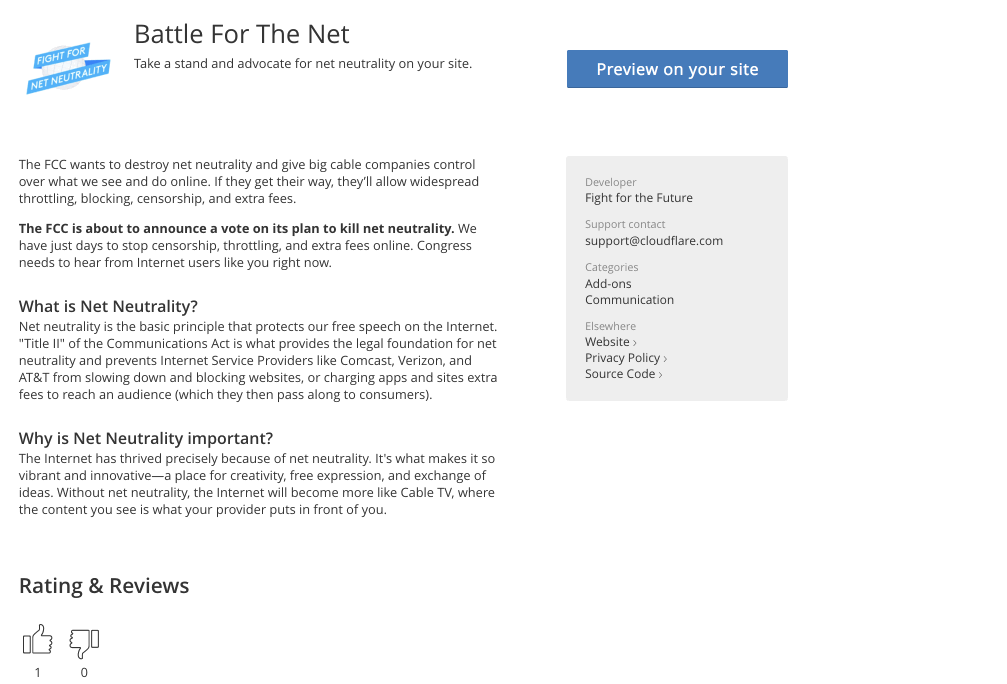 On Cloudflare Apps, you can preview Battle for the Net and see how it'd look on a site. Cloudflare users can install the app on their site with the click of a button. You can see how a user can enter a phone number into the pop-up. Users are given share links on their screens, so they may share the action they take on Facebook or Twitter. They are also given the option to donate to the cause.
Though the pop-up covers a significant portion of the page, it can be easily discarded by clicking the "x" in the upper right corner.
Use Battle for the Net to Call your Congressperson »
Learn more about Battle for the Net and the Break the Internet protest on their site.
---
Are you in San Francisco? Attend Cloudflare's Save the Internet! Net Neutrality Call-A-Thon
Join us at Cloudflare (or remotely) in the fight for net neutrality
The event will kick off with an introduction to net neutrality and why we think it's important. We'll preview the Battle for the Net app and use it to find our local representatives and call and tweet at them, letting them know we want them to take a stand for net neutrality.
Pizza will be provided for callers. Bring your own cell phone.
Tuesday, December 12th: 12:00pm-1:00pm
Cloudflare San Francisco
101 Townsend Street
San Francisco, CA 94107
If you can't make it on-site, join the effort by calling through the app, remotely.
Further reading about net neutrality
Key moments for Net Neutrality
Here are five more great videos, explaining net neutrality and why it's important.
The argument against net neutrality
Watch or read an interview with Ajit Pai by PBS about why he wants to do away with net neutrality.
More about the FCC
The FCC is a 5-member Commission, made up of three Republicans, including Pai, and two Democrats, including Clyburn.

Its purpose is to regulate interstate and international communications by radio, television, wire, satellite, and cable in all 50 states, the District of Columbia and U.S. territories.

It's an independent agency of the US government, overseen by Congress. The Commission is responsible for implementing and enforcing America's communications law and regulations. It has over 1,700 employees and a budget of almost $400 Million.
Read more on the FCC website.
Read more on the FCC Wikipedia page.
Conclusion
I was encouraged, for a moment, when I read an article, claiming that the FCC would not be voting on the repeal of net neutrality in November. But now net neutrality is under attack again, just one month later. We need to fight for it. Join the fight.
Attend Cloudflare's Save the Internet! Net Neutrality Call-A-Thon »