13 min read
This post is also available in 简体中文, 繁體中文, 日本語, Français, Deutsch, 한국어 and Español.
Cloudflare operates in more than 285 cities in over 100 countries, where we interconnect with over 11,500 network providers in order to provide a broad range of services to millions of customers. The breadth of both our network and our customer base provides us with a unique perspective on Internet resilience, enabling us to observe the impact of Internet disruptions.
We entered 2023 with Internet disruptions due to causes that ran the gamut, including several government-directed Internet shutdowns, cyclones, a massive earthquake, power outages, cable cuts, cyberattacks, technical problems, and military action. As we have noted in the past, this post is intended as a summary overview of observed disruptions, and is not an exhaustive or complete list of issues that have occurred during the quarter.
Government directed
Iran
Over the last six-plus months, government-directed Internet shutdowns in Iran have largely been in response to protests over the death of Mahsa Amini while in police custody. While these shutdowns are still occurring in a limited fashion, a notable shutdown observed in January was intended to prevent cheating on academic exams. Internet shutdowns with a similar purpose have been observed across a number of other countries, and have also occurred in Iran in the past. Access was restricted across AS44244 (Irancell) and AS197207 (MCCI), with lower traffic levels observed in Alborz Province, Fars, Khuzestan, and Razavi Khorasan between 08:00 to 11:30 local time (04:30 to 08:00 UTC) on January 19.

Mauritania
On March 6, Internet traffic across the three major mobile network providers in Mauritania was disrupted amid a search for four jihadist prisoners that escaped from prison. Starting around 10:00 local time (10:00 UTC), a drop in traffic was observed at AS37541 (Chinguitel), AS29544 (Mauritel), and AS37508 (Mattel), as well as at a country level. The Internet disruption lasted for multiple days, with traffic starting to recover around 13:45 local time (13:45 UTC) on March 12, after Mauritanian authorities reported that three of the escapees had been killed, with the fourth detained after a shootout.
Punjab, India
A shutdown of mobile Internet connectivity in Punjab, India began on March 19, ordered by the local government amid concerns of protest-related violence. Although the initial shutdown was ordered to take place between March 18, 12:00 local time and March 19, 12:00 local time, it was extended several times, ultimately lasting for three days. Traffic for AS38266 (Vodafone India), AS45271 (Idea Cellular Limited), AS45609 (Bharti Mobility), and AS55836 (Reliance Jio Infocomm) began to fall around 12:30 local time (07:00 UTC) on March 18, recovering around 12:30 local time (07:00 UTC) on March 21. However, it was subsequently reported that connectivity remained shut down in some districts until March 23 or 24.
Cable cuts
Bolivia
Bolivian ISP Cometco (AS27839) reported on January 12 that problems with international fiber links were causing degradation of Internet service. Traffic from the network dropped by approximately 80% starting around 16:00 local time (20:00 UTC) before returning to normal approximately eight hours later. It isn't clear whether the referenced international fiber links were terrestrial connections to neighboring countries, or issues with submarine cables several network hops upstream. As a landlocked country, Bolivia is not directly connected to any submarine cables.
Anguilla
On February 18, a Facebook post from the Government of Anguilla noted that there was a "Telecommunications Outage affecting both service providers, FLOW & DIGICEL." The accompanying graphic noted that the outage was due to a "subsea fiber break". Although not confirmed, the break likely occurred on the Eastern Caribbean Fiber System (ECFS), as this is the only submarine cable system that Anguilla is connected to. The figures below show a clear drop in traffic around 09:00 local time (13:00 UTC) in Anguilla and at AS2740 (Caribbean Cable Communications, acquired by Digicel) and to a lesser extent at AS11139 (Cable & Wireless, parent company of Flow Anguilla). The disruption lasted for over two days, with traffic returning to normal levels around 15:00 local time (19:00 UTC) on February 20, corroborated by a follow-on Facebook post from the Government of Anguilla.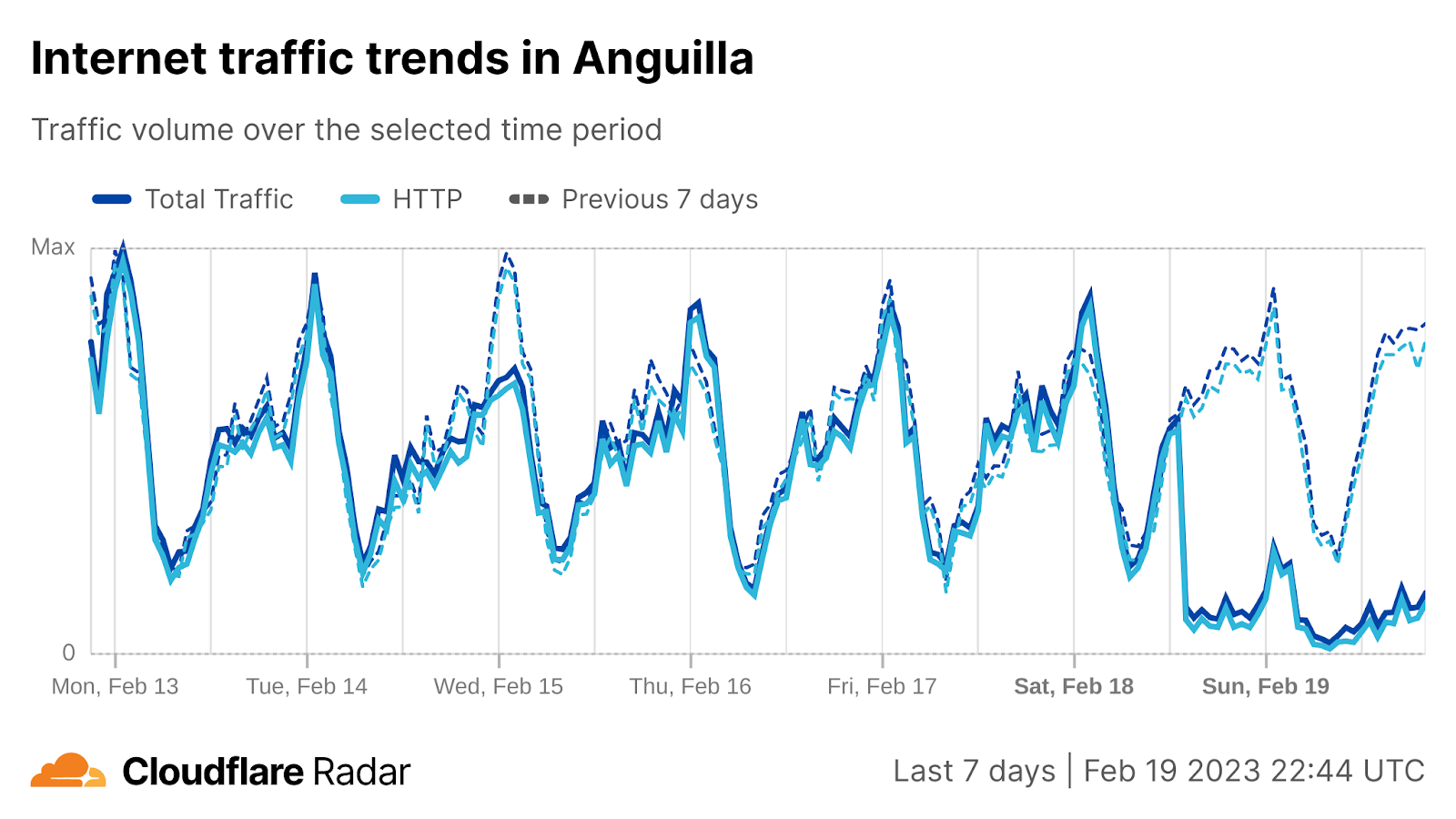 Bangladesh
A brief connectivity disruption was observed on Bangladeshi provider Grameenphone on February 23, between 11:45-14:00 local time (05:45-08:00 UTC). According to a Facebook post from Grameenphone, the outage was caused by fiber cuts due to road maintenance.
Venezuela
Venezuela, and more specifically, AS8048 (CANTV), are no stranger to Internet disruptions, seeing several (Q1, Q2) during 2022, as well as others in previous years. During the last couple of days in February, a few small outages were observed on CANTV's network in several Venezuelan states. However, a more significant near-complete outage occurred on February 28, starting around midnight local time (04:00 UTC), and lasting for the better part of the day, with traffic recovering at 17:30 local time (21:30 UTC). A Tweet posted the morning of February 28 by CANTV referenced an outage in their fiber optic network, which was presumably the cause.
Power outages
Pakistan
A country-wide power outage in Pakistan on January 23 impacted more than 220 million people, and resulted in a significant drop in Internet traffic being observed in the country. The power outage began at 07:34 local time (02:34 UTC), with Internet traffic starting to drop almost immediately. The figure below shows that traffic volumes dropped as much as 50% from normal levels before recovering around 04:15 local time on January 24 (23:15 UTC on January 23). This power outage was reportedly due to a "sudden drop in the frequency of the power transmission system", which led to a "widespread breakdown". Nationwide power outages have also occurred in Pakistan in January 2021, May 2018, and January 2015.
Bermuda
BELCO, the power company servicing the island of Bermuda, tweeted about a mass power outage affecting the island on February 3, and linked to their outage map so that customers could track restoration efforts. BELCO's tweet was posted at 16:10 local time (20:10 UTC), approximately one hour after a significant drop was observed in Bermuda's Internet traffic. The power outage, and subsequent Internet disruption, lasted over five hours, as BELCO later tweeted that "As of 9.45 pm [00:45 UTC, February 4], all circuits have been restored."
Argentina
Soaring temperatures in Argentina triggered a large-scale power outage across the country that resulted in multi-hour Internet disruption on March 1. Internet traffic dropped by approximately one-third during the disruption, which lasted from 16:30 to 19:30 local time (19:30 to 22:30 UTC). Cities that experienced visible impacts to Internet traffic during the power outage included Buenos Aires, Cordoba, Mendoza, and Tucuman.

Kenya
Just a few days later on March 4, Kenya Power issued a Customer Alert at 18:25 local time (15:25 UTC) regarding a nationwide power outage, noting that it had "lost bulk power supply to various parts of the country due to a system disturbance." The alert came approximately an hour after the country's Internet traffic dropped significantly. A subsequent tweet dated midnight local time (21:00 UTC) claimed that "electricity supply has been restored to all areas countrywide" and the figure below shows that traffic levels returned to normal levels shortly thereafter.
Earthquake
Turkey
On February 5, a magnitude 7.8 earthquake occurred 23 km east of Nurdağı, Turkey, leaving many thousands dead and injured. The quake, which occurred at 04:17 local time (01:17 UTC), was believed to be the strongest to hit Turkey since 1939. The widespread damage and destruction resulted in significant disruptions to Internet connectivity in multiple areas of the country, as shown in the figures below. Although Internet traffic volumes were relatively low because it was so early in the morning, the graphs show it dropping even further at or around the time of the earthquake. Nearly half a day later, traffic volumes in selected locations were between 63-94% lower than at the same time the previous week. A month later, after several aftershocks, traffic volumes had mostly recovered, although some regions were still struggling to recover.

Weather
New Zealand
Called the "country's biggest weather event in a century", Cyclone Gabrielle wreaked havoc on northern New Zealand, including infrastructure damage and power outages impacting tens of thousands of homes. As a result, regions including Gisborne and Hawkes Bay experienced Internet disruptions that lasted several days, starting at 00:00 local time on February 14 (11:00 UTC on February 13). The figures below show that in both regions, peak traffic volume returned to pre-cyclone levels around February 19.
Vanuatu
Later in February, Cyclone Judy hit the South Pacific Ocean nation of Vanuatu, the South Pacific Ocean nation made up of roughly 80 islands that stretch 1,300 kilometers. The Category 4 cyclone damaged homes and caused power outages, resulting in a significant drop in the country's Internet traffic. On February 28, Vanuatu's traffic dropped by nearly 80% as the cyclone struck, and as seen in the figure below, it took nearly two weeks for traffic to recover to the levels seen earlier in February.
Malawi
Cyclone Freddy, said to be the longest-lasting, most powerful cyclone on record, hit Malawi during the weekend of March 11-12, and into Monday, March 13. The resulting damage disrupted Internet connectivity in the east African country, with traffic dropping around 11:00 local time (09:00 UTC) on March 13. The disruption lasted for over two days, with traffic levels recovering around 21:00 local time (19:00 UTC) on March 15.
Technical problems
South Africa
Just before 07:00 local time (05:00 UTC) on February 1, South African service provider RSAWEB initially tweeted about a problem that they said was impacting their cloud and VOIP platforms. However, in several subsequent tweets, they noted that the problem was also impacting internal systems, as well as fiber and mobile connectivity. The figure below shows traffic for RSAWEB dropping at 06:30 local time (04:30 UTC), a point at which it would normally be starting to increase for the day. Just before 16:00 local time (14:00 UTC), RSAWEB tweeted "...engineers are actively working on restoring services post the major incident. Customers who experienced no connectivity may see some services restoring." The figure below shows a sharp increase in traffic around that time with gradual growth through the evening. However, full restoration of services across all of RSAWEB's impacted platforms took a full week, according to a February 8 tweet.
Italy
An unspecified "international interconnectivity problem" impacting Telecom Italia caused a multi-hour Internet disruption in Italy on February 5. At a country level, a nominal drop in traffic is visible in the figure below starting around 11:45 local time (10:45 UTC) with some volatility visible in the lower traffic through 17:15 local time (16:15 UTC). However, the impact of the problem is more obvious in the traffic graphs for AS3269 and AS16232, both owned by Telecom Italia. Both graphs show a more significant loss of traffic, as well as greater volatility through the five-plus hour disruption.
Myanmar
A fire at an exchange office of MPT (Myanma Posts and Telecommunications) on February 7 disrupted Internet connectivity for customers of the Myanmar service provider. A Facebook post from MPT informed customers that "We are currently experiencing disruptions to our MPT's services including MPT's call centre, fiber internet, mobile internet and mobile and telephone communications." The figure below shows the impact of this disruption on MPT-owned AS9988 and AS45558, with traffic dropping significantly at 10:00 local time (03:30 UTC). Significant recovery was seen by 22:00 local time (15:30 local time).
Republic of the Congo (Brazzaville)
Congo Telecom tweeted a "COMMUNIQUÉ" on March 15, alerting users to a service disruption due to a "network incident". The impact of this disruption is clearly visible at a country level, with traffic dropping sharply at 00:45 local time (23:45 on March 14 UTC), driven by complete outages at MTN Congo and Congo Telecom, as seen in the graphs below. While traffic at MTN Congo began to recover around 08:00 local time (07:00 UTC), Congo Telecom's recovery took longer, with traffic beginning to increase around 17:00 local time (16:00 UTC). Congo Telecom tweeted on March 16 that the nationwide Internet outage had been resolved. MTN Congo did not acknowledge the disruption on social media, and neither company provided more specific information about the reported "network incident".
Lebanon
Closing out March, disruptions observed at AS39010 (Terranet) and AS42334 (Mobi) in Lebanon may have been related to a strike at upstream provider Ogero Telecom, common to both networks. A published report quoted the Chairman of Ogero commenting on the strike, "We are heading to a catastrophe if a deal is not found with the government: the network will completely stop working as our generators will gradually run out of fuel. Lebanon completely relies on Ogero for its bandwidth, leaving no one exempt from a blackout." Traffic at both Terranet and Mobi dropped around 05:00 local time (03:00 UTC) on March 29, with the disruption lasting approximately 4.5 hours, as traffic recovered at 09:30 local time (07:30 UTC).
Cyberattacks
South Korea
On January 29, South Korean Internet provider LG Uplus suffered two brief Internet disruptions which were reportedly caused by possible DDoS attacks. The first disruption occurred at 03:00 local time (18:00 UTC on January 28), and the second occurred at 18:15 local time (09:15 UTC). The disruptions impacted traffic on AS17858 and AS3786, both owned by LG. The company was reportedly hit by a second pair of DDoS attacks on February 4.
Guam
In a March 17 tweet posted at 11:30 local time (01:30 UTC), Docomo Pacific reported an outage affecting multiple services, with a subsequent tweet noting that "Early this morning, a cyber security incident occurred and some of our servers were attacked". This outage is visible at a country level in Guam, seen as a significant drop in traffic starting around 10:00 local time (00:00 UTC) in the figure below. However, in the graph below for AS3605 (ERX-KUENTOS/Guam Cablevision/Docomo Pacific), the cited outage results in a near-complete loss of traffic starting around 05:00 local time (19:00 on March 16 UTC). Traffic returned to normal levels by 18:00 local time on March 18 (08:00 UTC).
Ukraine/Military Action
In February, the conflict in Ukraine entered its second year, and over this past year, we have tracked its impact on the Internet, highlighting traffic shifts, attacks, routing changes, and connectivity disruptions. In the fourth quarter of 2022, a number of disruptions were related to attacks on electrical infrastructure, and this pattern continued into the first quarter of 2023.
One such disruption occurred in Odessa on January 27, amid news of Russian airstrikes on local energy infrastructure. As seen in the figure below, Internet traffic in Odessa usually begins to climb just before 08:00 local time (06:00 UTC), but failed to do so that morning after several energy infrastructure facilities near Odessa were hit and damaged. Traffic remained lower than levels seen the previous week for approximately 18 hours.
Power outages resulting from Russian attacks on energy generation and distribution facilities on March 9 resulted in disruptions to Internet connectivity in multiple locations around Ukraine. As seen in the figures below, traffic dropped below normal levels after 02:00 local time (00:00 UTC) on March 9. Traffic in Kharkiv fell over 50% as compared to previous week, while in Odessa, traffic fell as much as 60%. In Odessa, Mykolaiv, and Kirovohrad Oblast, traffic recovered by around 08:00 local time (06:00 UTC), while in Kharkiv, the disruption lasted nearly two days, returning to normal levels around 23:45 local time (21:45 UTC) on Friday, March 10.
Conclusion
The first quarter of 2023 seemed to be particularly active from an Internet disruption perspective, but hopefully it is not a harbinger of things to come through the rest of the year. This is especially true of government-directed shutdowns, which occurred fairly regularly through 2022. To that end, civil society organization Access Now recently published their Internet shutdowns in 2022 report, finding that In 2022, governments and other actors disrupted the internet at least 187 times across 35 countries. Cloudflare Radar is proud to support Access Now's #KeepItOn initiative, using our data to help illustrate the impact of Internet shutdowns and other disruptions.
To follow Internet disruptions as they occur, check the Cloudflare Radar Outage Center (CROC) or the Radar API. On social media, follow @CloudflareRadar on Twitter or cloudflare.social/@radar on Mastodon.