3 min read
Today, we're excited to announce our partnerships with Chronicle Security, Datadog, Elastic, Looker, Splunk, and Sumo Logic to make it easy for our customers to analyze Cloudflare logs and metrics using their analytics provider of choice. In a joint effort, we have developed pre-built dashboards that are available as a Cloudflare App in each partner's platform. These dashboards help customers better understand events and trends from their websites and applications on our network.


Cloudflare insights in the tools you're already using
Data analytics is a frequent theme in conversations with Cloudflare customers. Our customers want to understand how Cloudflare speeds up their websites and saves them bandwidth, ranks their fastest and slowest pages, and be alerted if they are under attack. While providing insights is a core tenet of Cloudflare's offering, the data analytics market has matured and many of our customers have started using third-party providers to analyze data—including Cloudflare logs and metrics. By aggregating data from multiple applications, infrastructure, and cloud platforms in one dedicated analytics platform, customers can create a single pane of glass and benefit from better end-to-end visibility over their entire stack.

While these analytics platforms provide great benefits in terms of functionality and flexibility, they can take significant time to configure: from ingesting logs, to specifying data models that make data searchable, all the way to building dashboards to get the right insights out of the raw data. We see this as an opportunity to partner with the companies our customers are already using to offer a better and more integrated solution.
Providing flexibility through easy-to-use integrations
To address these complexities of aggregating, managing, and displaying data, we have developed a number of product features and partnerships to make it easier to get insights out of Cloudflare logs and metrics. In February we announced Logpush, which allows customers to automatically push Cloudflare logs to Google Cloud Storage and Amazon S3. Both of these cloud storage solutions are supported by the major analytics providers as a source for collecting logs, making it possible to get Cloudflare logs into an analytics platform with just a few clicks. With today's announcement of Cloudflare's Analytics Partnerships, we're releasing a Cloudflare App—a set of pre-built and fully customizable dashboards—in each partner's app store or integrations catalogue to make the experience even more seamless.
By using these dashboards, customers can immediately analyze events and trends of their websites and applications without first needing to wade through individual log files and build custom searches. The dashboards feature all 55+ fields available in Cloudflare logs and include 90+ panels with information about the performance, security, and reliability of customers' websites and applications.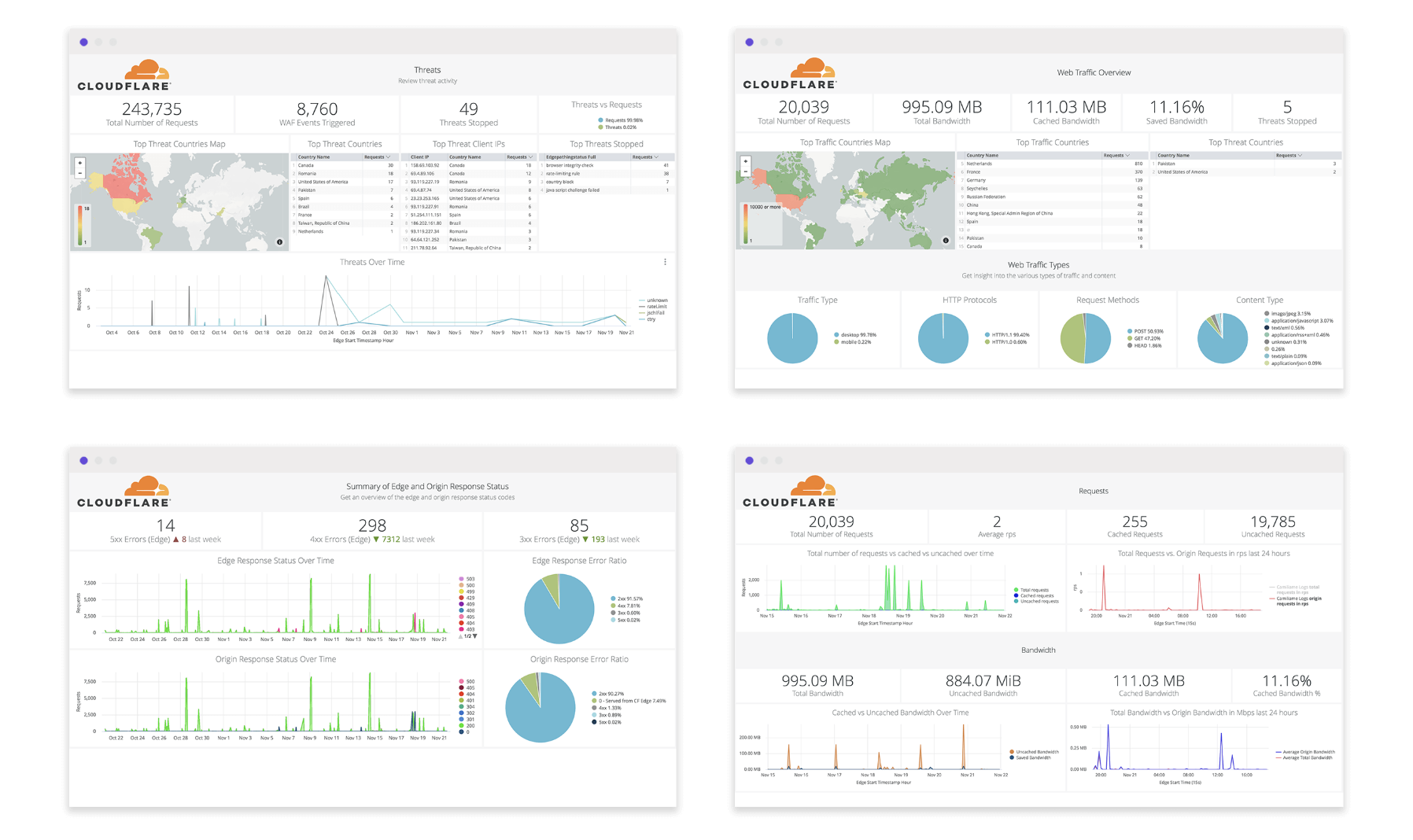 Ultimately, we want to provide flexibility to our customers and make it easier to use Cloudflare with the analytics tools they already use. Improving our customers' ability to get better data and insights continues to be a focus for us, so we'd love to hear about what tools you're using—tell us via this brief survey. To learn more about each of our partnerships and how to get access to the dashboards, please visit our developer documentation or contact your Customer Success Manager. Similarly, if you're an analytics provider who is interested in partnering with us, use the contact form on our analytics partnerships page to get in touch.