1 min read
Happy Valentine's Day, Internet!
There's a special place in our heart for all the open source projects that support the Internet and improve the lives of everyone in the developer community, and today seems like an appropriate time to express the gratitude we have for the non-profit / volunteer-run projects that hold everything together.
Cloudflare uses a lot of open source software and also contributes to open source. Informally, Cloudflare has already been upgrading the plans of certain eligible open source projects that have reached out to us or that we have interfaced with. Here are some of the projects whose landing pages are already protected by Cloudflare.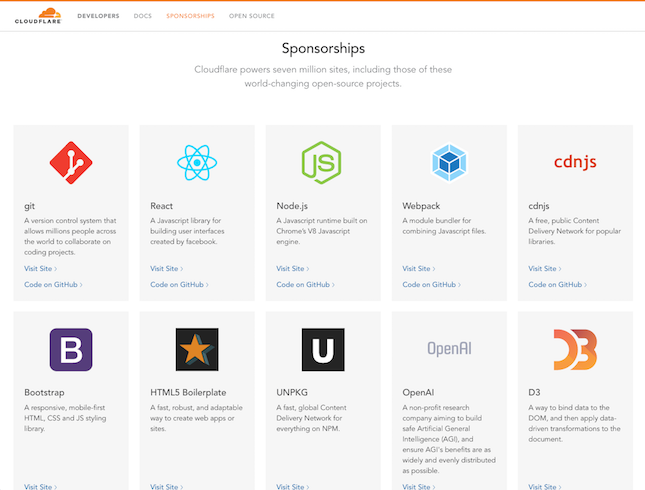 A subset of open source projects on Cloudflare. See more >>
To really pay the goodwill forward, we want to make this opportunity common knowledge in the developer community. In 2018, we intend to provide free Cloudflare Pro Plan upgrades to eligible open source projects (subject to a case-by-case evaluation) that:
provide engineering tools or resources to the developer community; and
are volunteer-run or working on a non-profit basis.
Are you an open source project using @Cloudflare? We want to give you a free Pro Plan to thank you for your work for the community.  ? -> [email protected] Please RT!

— Cloudflare (@Cloudflare) January 30, 2018
Making core contributions to a qualifying open source project? Drop a line to [email protected] with a link to the project's landing page, repo, and a description of what engineering tools or resources your project provides to the developer community.
And please RT this opportunity, and share it with all the open source contributors in your life. Thanks!