3 min read
Grabbing the attention of employees at a security and privacy-focused company on security awareness presents a unique challenge; how do you get people who are already thinking about security all day to think about it some more? October marked Cloudflare's first Security Awareness Month as a public company and to celebrate, the security team challenged our entire company population to create graphics, slogans, and memes to encourage us all to think and act more securely every day.
Employees approached this challenge with gusto; global participation meant plenty of high quality submissions to vote on. In addition to being featured here, the winning designs will be displayed in Cloudflare offices throughout 2020 and the creators will be on the decision panel for next year's winners. Three rose to the top, highlighting creativity and style that is uniquely Cloudflarian. I sat down with the winners to talk through their thoughts on security and what all companies can do to drive awareness.
Eugene Wang, Design Team, First Place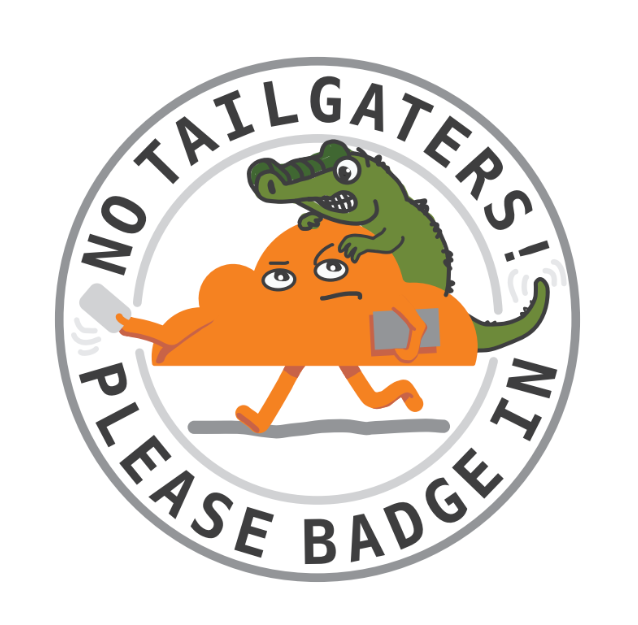 ---
Sílvia Flores, Executive Assistant, Second Place
---
Scott Jones, e-Learning Developer, Third Place
Security Haiku
Wipe that whiteboard clean‌‌
Visitors may come and see
Secrets not for them
No tailgating please
You may be a nice person
But I don't know that‌‌‌‌‌‌
1. What inspired your design?
Eugene: The friendly "Welcome" cloud seen in our all company slides was a jumping off point. It seemed like a great character that embodied being a Cloudflarian and had tons of potential to get into adventures. I also wanted security to be a bit fun, where appropriate. Instead of a serious breach (though it could be), here it was more a minor annoyance personified by a wannabe-sneaky alligator. Add a pun, and there you go—poster design!
Sílvia: What inspired my design was the cute Cloudflare mascot the otter since there are so many otters in SF. Also, security can be fun and I added a pun for all the employees to remember the security system in an entertaining and respectful way. This design is very much my style and I believe making things cute and bright can really grab attention from people who are so busy in their work. A bright, orange, leopard print poster cannot be missed!
Scott: I have always loved the haiku form and poems were allowed!
2. What's the number one thing security teams can do to get non-security people excited about security?
Eugene: Make them realize and identify the threats that can happen everyday, and their role in keeping things secure. Cute characters and puns help.
Sílvia: Make it more accessible for people to engage and understand it, possibly making more activities, content, and creating a fun environment for people to be aware but also be mindful.
Scott: Use whatever means available to keep the idea of being security conscious in everyone's active awareness. This can and should be done in a variety of different ways so as to engage everyone in one way or another, visually with posters and signs, mentally by having contests, multi-sensory through B.E.E.R. meeting presentations and yes, even through a careful use of fear by periodically giving examples of what can happen if security is not followed...I believe that people like working here and believe in what we are doing and how we are doing it, so awareness mixed in with a little fear can reach people on a more visceral and personal level.
3. What's your favorite security tip?
Eugene: Look at the destination of the return email.
Sílvia: LastPass. Oh my lord. I cannot remember one single password since we need to make them so difficult! With numbers, caps, symbols, emojis (ahaha). LastPass makes it easier for me to be secure and still be myself and not remembering any password without freaking out.
Scott: "See something, say something" because it both reflects our basic responsibility to each other and exhibits a pride that we have as being part of a company we believe in and want to protect.‌‌
‌‌For security practitioners and engagement professionals, it's easy to try to boil the ocean when Security Awareness Month comes around. The list of potential topics and guidance is endless. Focusing on two or three key messages, gauging the maturity of your organization, and encouraging company-wide participation makes it a company-wide effort. Extra recognition and glory for those that go over and above never hurts either.
Want to run a security awareness design contest at your company? Reach out to us at [email protected] for tips and best practices for getting started, garnering support, and encouraging participation.
‌‌