4 min read
There are days when you feel quite ecstatic and know you have succeeded in completing each and every task set before you. Monday was one of those days - well nearly. What didn't I complete? The pile of forty-plus pages that needed filling out; but I digress. Let me explain the day.
I'm the new Network Strategy guy at CloudFlare and my first day was Monday, March 10th, I arrived at the offices as instructed, not knowing what to expect. After all, this was a startup! My desk; my computer; my t-shirt; my miscellaneous office items were all laid-out ready for me to sit down. You can't ask for anything more. This is the type of welcome that simply makes you know you've arrived. I had arrived.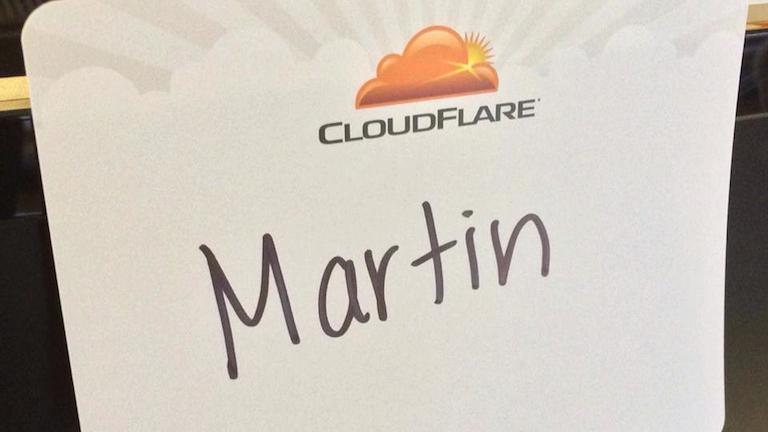 Right away, without skipping a beat, I was being walked around the offices and introduced to the San Francisco-based people at CloudFlare. The company has nearly 80 employees. It was a little daunting at first; but well worth every minute. I was delighted to meet all the people I was going to spend copious amounts of time interacting with. By the end of the hour I had met with accounting and administration, then sales, some smart marketing folks, the heads-down operations team, a cool support team and of course the network engineering group that I will work with some day. After all, I am a network guy!
I've spent a lot of years working on IP networking. I started writing network software in the 80s. Next, I spent some years building networks and datacenters. Other careers included global internet routing and internet peering. In the past 10+ years I've been a strong proponent of IPv6--more of this later.
What about that 5,000 number I mentioned? That was the other addition to CloudFlare on Monday. I walked in the door to that carefully laid-out desk and 5,000 customers signed up to have their web properties accelerated and protected by CloudFlare. Yes, 5,000! That's not a daily sign-up record, however it's nice to know that I'm not the only person that believes in CloudFlare! I think those 5,000 web properties and myself are all in very good company. I know I'll do my part to help protect those 5,000 customers plus all the other CloudFlare customers.
I'm an IPv6 guy. I fully believe in IPv6. I've lived and breathed it for many-many years. People that know me know that IPv6 have been my passion for a long time. Luckily CloudFlare also shares that passion.
The Internet is running out of addresses (think area codes and phone number in the telephone world). IPv6 fixes that issue. The IPv6 protocol was defined by the IETF back in the late 90's and has spent the last decade minimally deployed. It is sadly overlooked by many network operators. It took the in-your-face realization that IPv4 address space (the IP addressing scheme defined at the birth of the Internet) is extremely close to being fully allocated and that no more space is available before IPv6 started being taken seriously. Events like World IPv6 Day and World IPv6 Launch organized by Internet Society (ISOC) helped to finally drive home the message that IPv6 really worked and that it must be deployed if we want the Internet to continue to grow. For the last three years, CloudFlare has been running an IPv4/IPv6 gateway for its customers. What that means it any CloudFlare customer's web property is available over both IPv4 and IPv6. It is already deployed, available, working and being used!
But that's not the full story because one of the configuration options that is build into the CloudFlare customer control panel is a switch that says "IPv6 off" or "IPv6 on." (the default is "IPv6 off").
Many customers have flipped the switch to enable IPv6. That's good; but it's time to make the default setting "IPv6 on." In this day and age this is a very safe thing to do. Over the next few weeks CloudFlare is going to make the default for new customer be "IPv6 on." No need to flip that switch to be enabled for the whole Internet (that's IPv4 and IPv6).
In the upcoming weeks CloudFlare will enable IPv6 for existing customers in a staggered release. CloudFlare takes the delivery of each and every bit very serious and you can be assured that every person at the company is involved in making this operation is successful. Yes there will be the option to turn off IPv6; but we strongly believe that at this point there's little need for that option to be exercised. By the time we finish this process, there will be more IPv6-enabled web presence than all CDNs, combined.
Finally, let's go back and talk about that first day. I hadn't completed all the new employee paperwork yet I left the offices feeling excited and happy and slightly drained. CloudFlare is not a sleepy-quiet-backwater-feet-up-on-the-desk company. It's a high-paced, innovative, going-places, dynamic place to work and it's filled with dedicated people ready to build the next best thing. I'm honored to have joined the company. It's going to be a wild ride! If you want to join me (along with those 5,000 other Monday signups) check out the careers page. We are hiring!