4 min read
One theme we've prioritized this year at Cloudflare is how we can "level up" — level up service to our customers, level up the growth of our network, level up speed and creativity as we innovate.
In addition to our products and business, "leveling up" should also apply to the way Cloudflare gives back. Since our founding, giving back has been part of Cloudflare's DNA, whether it's through free services like Unmetered DDoS Mitigation or Universal SSL, giving gifts to the Internet every year during Birthday Week, or through free programs like Project Galileo that helps protect at-risk public interest organizations all over the world: for example, human rights activists and journalists. As the capabilities of our network continue to grow, we know there is more we can do. As we started to plan our first Impact Week, it seemed like the right time to figure out how we can level up how we give back to our communities.
To help us get there, I am excited to announce that Cloudflare is joining Pledge 1%. We're joining the more than 12,000 companies in 100 countries that are committed to making a tangible, positive impact in their communities. As part of Cloudflare's pledge to give 1%, we're committing to donate 1% of our products and 1% of our time to give back to our local communities as well as all the communities we support online around the world.
Pledge 1%
Pledge 1% launched in 2014 with a mission to create a new normal where giving back is integrated into the foundation of companies at all stages of development, from startups to the Fortune 500. As part of the commitment, companies are encouraged to commit to donating to charitable causes one percent of any combination of their products, profits, time or equity.
1% of Product
Part of Cloudflare's commitment to Pledge 1% will be to grow and expand our donated services programs. Donating free products and services is a part of Cloudflare's story. We started our company with the basic idea that high-end networking services like security, content delivery, and reliability features should be available for everyone.
In 2014 we launched Project Galileo with the simple idea that we could offer services to journalists and human rights activities around the world for free. Today, Cloudflare protects over 1,500 organizations in 111 countries, and has donated more than $8 million worth of services through that program alone. After the 2016 US election, we launched the Athenian Project to provide state and local governments with our highest level security and reliability services for free, to ensure voters would be able to access election and voter registration information. We now have 292 government entities across 30 states participating in the program, and just yesterday, we announced that the Athenian Project is now available globally.
This week, we also announced our newest program: Project Pangea. Pangea will help community networks for  underserved populations, including those in rural and developing locations, connect to the Internet for free.
We think we are only scratching the surface of how we can leverage one of the world's fastest, most secure, most reliable networks to help underserved communities access and stay safe online. We're excited to partner with Pledge 1% and all the great companies that are participating in the movement to help move us forward.
1% of Time
Maybe the most exciting part about Cloudflare joining Pledge 1% is our new commitment to give one percent of our team's time. To meet that goal, Cloudflare is now offering all employees three days additional annual leave to volunteer in their communities.
Volunteering is an important part of our culture at Cloudflare. Prior to COVID, our team could dedicate one week every year to local volunteer efforts, which we called Cloudflare Cares. Coordinated across many of our large office locations, we would dedicate each day for a full week volunteering at employee-nominated, local non-profit organizations. Our participation pivoted to virtual during COVID, and it's been incredible to see the impact one can make in their communities virtually, as well as in person. However, like a lot of folks,  we are excited to return to in-person as soon as we are able to. We are looking forward to leveraging our 1% initiative to take Cloudflare Cares to a higher level of community engagement, around all of our global offices.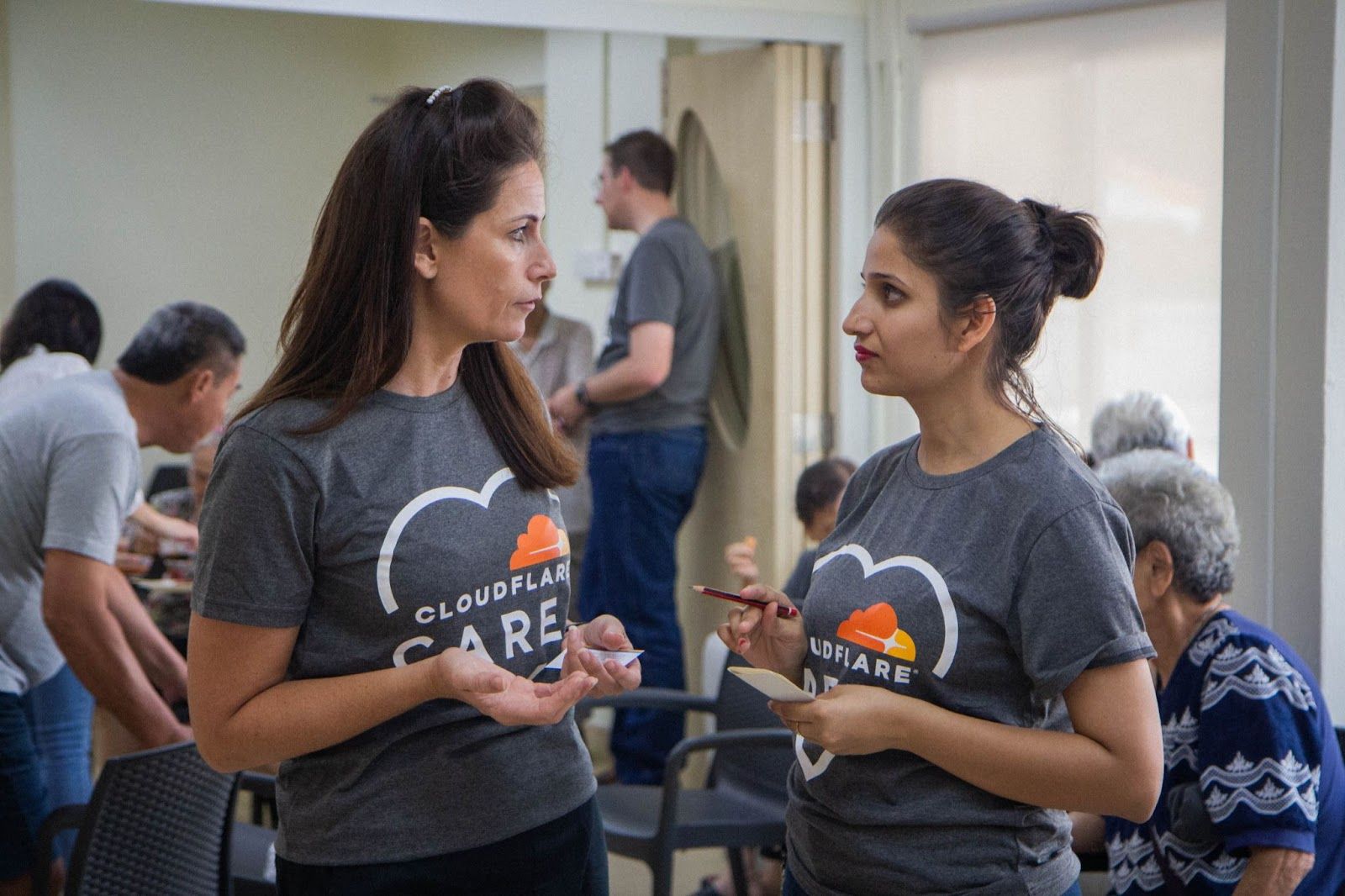 Although 1% of time is a significant investment — we expect this to net out at somewhere in the order of 70,000 hours of Cloudflarian time dedicated to this initiative next year — we think it has the potential to bring our teams closer together, to bring our offices closer to their communities, and attract active and engaged people to come join our team. It's a big part of our mission to help build a better Internet.
Moving Forward
We're incredibly proud to be joining Pledge 1%. Their goals are consistent with Cloudflare's goals, and their methods will help us live up to those values consistently and intentionally. We've always been excited to find ways to build products that give back to the world. It is also great to find ways for our team building those products to give back to their communities.
We're just getting started.