2 min read

Photo source: Andy B; images used under creative commons license.
Our new point of presence in Manchester, UK brings the CloudFlare network to 63 points of presence across 33 countries. In other words, the sun never sets across the CloudFlare network. Our data center in Manchester also admits the United Kingdom into a small club of countries with more than one CloudFlare data center, including the US, China, Japan, Australia, Germany, and France.
As of yesterday, traffic from the majority of Internet users in Northern England is now mere milliseconds away. More importantly, our Manchester and London data centers allow for redundancy and content localization within the UK for all of our customers.
In homage
The city of Manchester has made more than its fair share of technical contributions over the years. It is the city where Rolls met Royce (their first car drove off the line of their Manchester factory in 1904), and is also home to the first modern computer. The computer, nicknamed "Baby", was built at The University of Manchester using technology developed for WWII communications equipment, and ran the world's first stored program at 11am on Monday 21st June, 1948.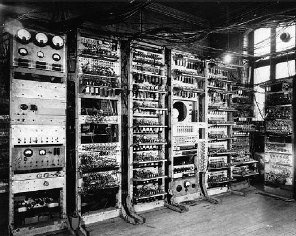 It is fitting, then, that in the last three years there has been a concerted effort to turn Manchester into a second hub for Internet traffic outside of London. We are proud to join this effort, and announce that we are the latest members of IX Manchester, a rapidly growing peering exchange serving the North of England. IX Manchester marks the 11th peering exchange we've turned up in just the past 3 months (to learn more about peering read our post here).
A better web for everyone
What does this mean for you? If you are a CloudFlare customer, it means that your web site is faster (your content is served closer to your visitors), safer (another facility to mitigate attacks), and always online (yet another redundant data center to serve your traffic). Best of all, you don't have to do anything! The benefits are free, automatic, and constantly growing. If you'd like to help us build a better web for everyone, consider signing up here.
— The CloudFlare team