3 min read
Cloudflare's 127th data center is now live in Macau, helping make over 7 million Internet facing applications safer and faster. This is our 44th data center in Asia.
Cloudflare 將在澳門啟用全球第127個數據中心, 幫助超過 7,000,000 客戶的互聯網資產運行得更快、更安全。澳門也是我們在亞洲的第44個數據中心。
O 127º centro de dados da Cloudflare agora está em funcionamento em Macau, ajudando a tornar mais de 7 milhões de aplicações voltadas para a Internet de forma mais segura e rápida. Estamos felizes em compartilhar que este é o nosso 44º centro de dados na Ásia.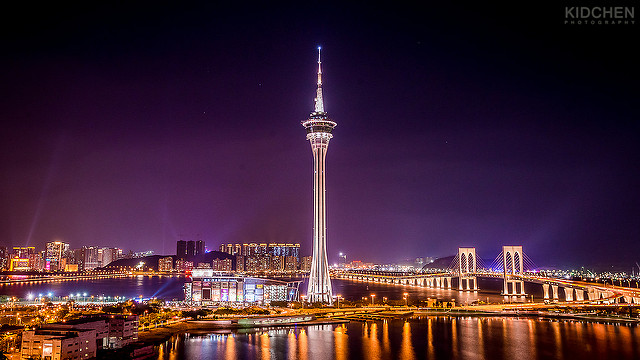 CC BY-NC-ND 2.0 image by kidchen915
Blending Chinese and Portuguese culture, just last year, Macau welcomed over 30 million visitors. Visit Macau to experience its unique and extravagant entertainment scene, see scenic spots such as the Ruins of St Paul, Senado Square, attempt the world's highest bungy jump from Macau Tower, or enjoy the foodie paradise Macau delivers!
有著與眾不同的中國及葡萄牙文化融合景觀,澳門至去年為止已經吸引了三千萬遊客來一睹她的風采。你可以拜訪著名的娛樂景觀,像是聖保祿大教堂遺址,議事亭廣場,挑戰澳門的美食,亦可以選擇從全世界最高的高空彈跳地點ㄧ澳門旅遊塔上一躍而下。
Combinando cultura chinesa e portuguesa, o ano passado, Macau recebeu mais de 30 milhões de visitantes. Recomendamos que visite Macau para experimentar a cena de entretenimento única e extravagante, explore os pontos cénica, como ruínas de São Paulo, Praça do Senado, e ainda, tente o "bungee jumping" mais alto do mundo deste da Torre de Macau, ou aproveite o paraíso da gastronomia que Macau oferece!
While Macau and it's bigger sister across the Pearl River, Hong Kong share many similarities, one big difference is Egg Tarts. Egg tarts are suggested to have been introduced into Hong Kong in the 1940's while Macau favors the portuguese style which dates back hundreds of years. Both have been adapted for local flavors and both are wonderful! Which do you like best?
雖然澳門以及香港有著許多相似之處,他們對於蛋塔的喜好卻有相當大的不同。話說蛋塔大約於1940年代左右才被引入香港,而澳門當地人偏好的葡式蛋塔卻已有百年歷史了。兩地都將他們對於蛋塔的喜好昇華成不可或缺的美食。您喜歡哪種多一點呢?
Enquanto Macau e a irmã a sua irmã do outro lado do rio das pérolas, Hong Kong, ambas compartilham muitas semelhanças, uma grande diferença seriam algumas especialidades culinárias. Os deliciosos pastéis de nata, foram introduzidos em Hong Kong na década de 1940, enquanto Macau favorece o estilo português que remonta a centenas de anos. Ambos foram adaptados para sabores locais e ambos são maravilhosos! Qual é o seu favorito (pastel de nata)?
Next week, we'll announce even more cities around the globe added to the Cloudflare global network.
澳門只是個起點!從下週起,我們將會逐漸宣佈更多城市加入 Cloudflare 的全球網路。
Na próxima semana, anunciaremos ainda mais localidades ao redor do mundo a serem adicionadas à rede global Anycast da Cloudflare.